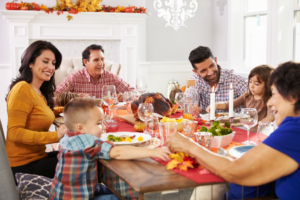 With Thanksgiving just around the corner, you might be thinking about all of the things you're grateful to have in your life—loving family, delicious food, and of course, a healthy set of pearly whites! But if you've been dealing with excruciating tooth pain, you shouldn't wait to see your dentist to have it assessed. If the situation calls for it, they might suggest a root canal; however, despite what you've maybe heard about this dental treatment, it's undeniably one of the best ways to save a compromised tooth and ensure it remains a healthy part of your smile. Here are a few reasons to add root canals to the list of things you're thankful for this year!
Reason #1. They Provide Pain Relief
One of the most compelling reasons to be thankful for a root canal is the instant relief from excruciating pain that the procedure provides. Root canals are performed to alleviate the pain caused by infection or damage to the pulp, which is the innermost layer of the tooth. These issues will not resolve themselves, and without this procedure, the pain can intensify making everyday activities like eating and speaking quite unbearable. Fortunately, the first step of a root canal is the numbing of the patient's mouth—and from there, the "root" of the pain is quickly remedied.
Reason #2. They Preserve Your Natural Tooth
Root canals enable dentists and endodontists to save your natural tooth, maintaining its function and appearance. Preserving your natural teeth is one of the primary goals of dentists everywhere, as your pearly whites are crucial for proper chewing, speaking, and maintaining the alignment of surrounding teeth. Losing even just one can trigger a series of oral health issues that might necessitate costly restorative services in the future.
And since oral health is closely linked to overall well-being, by undergoing root canal therapy, you're also contributing to your general wellness and lowering the risk of systematic issues related to untreated oral infections!
Reason #3. They Restore Your Confidence
The bottom line is that excruciating tooth pain is unpleasant, to say the least. If you're needlessly enduring it, you might not even feel like smiling or socializing with family members during Thanksgiving dinner, which can negatively impact your self-esteem. By relieving pain and restoring your smile, root canals give you the confidence and resilience to easily interact with others without worrying about dental discomfort or embarrassment.
Hearing the words "root canal" shouldn't send shivers down your spine—rather, it should fill you with a feeling of relief, knowing that the treatment will give your tooth a second lease on life. That said, this procedure is just one more thing to be thankful for this year!
About the Practice
Under the leadership of Dr. Karyn Stern and Dr. Niusha Nikkholgh, our team here at Worcester Endodontics is thrilled to provide patients and families in Worcester with an unrivaled level of high-quality care! We're excited to offer a wide range of endodontic services, including root canal therapy. To learn more about root canals or to schedule an appointment for you or a loved one, feel free to visit us online or give us a call today: (508) 755-3636.