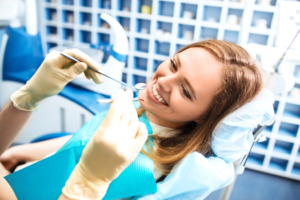 It's easy to take teeth for granted; we often don't pay attention to the job they do nor praise them enough for their contribution to our health and happiness. However, we tend to notice pretty quickly when one of them has become decayed, damaged, or otherwise compromised. In these scenarios, two of the go-to treatments include root canals and tooth extractions. But is one of these options preferable compared to the other? Here's a closer look at the root canal process and why it's usually a better treatment avenue to pursue, compared to having the tooth extracted.
What Is a Root Canal?
Root canals can be used to save teeth that have damaged, diseased, or dead pulp but are still otherwise viable. After numbing the area, an opening is made in the affected tooth, and the problematic tissue is removed before the pulp chamber is cleaned and filled with special dental material. Finally, a dental crown is placed on top to restore the tooth's strength and appearance.
Despite what you've maybe heard about root canals, they're not nearly as intimidating or painful as they're made out to be—in fact, most patients compare the level of discomfort to that of receiving a dental filling. Moving forward, the tooth is given a renewed lease on life and can continue to serve you well indefinitely—so long as you practice excellent oral hygiene.
When Are Tooth Extractions Necessary?
Tooth extractions are more-or-less exactly what their name implies; if a tooth can no longer remain inside the mouth, either due to deterioration or to the threat it poses to your other teeth, it must be removed. Keep in mind this is typically suggested as a last resort when other treatments, such as a root canal, aren't capable of saving the tooth.
After numbing the area, forceps can be used to gently extract the tooth if it's still above the gumline (surgical extraction is performed for teeth beneath the gum tissue). Keep in mind that this route includes a particular recovery period that must be adhered to, and it also means that the tooth in question will eventually need to be replaced.
Which Treatment Is Best for My Smile?
The bottom line is that both of these treatments have their usefulness when it comes to assisting patients with compromised teeth, and your endodontist will need to inspect your situation before determining the better course of action. Neither one is necessarily "better" than the other; root canals are generally used when the tooth in question has a chance of being salvaged, whereas tooth extractions are performed if the tooth can't be saved or poses a threat to the patient's oral health.
In any case, your smile is at serious risk if you have a damaged or infected tooth, and the longer you wait to pursue one of these treatment options, the worse things will get!
About the Practice
Our talented team here at Worcester Endodontics prides itself on being able to provide patients and families in Worcester, MA with an exceptional level of dental care! Under the leadership of Dr. Karyn Stern and Dr. Niusha Nikkholgh, we're pleased to offer a vast range of endodontic treatment options including root canal treatment for those with compromised teeth. If you have any questions about the blog or you need to set up an appointment, please contact us today for more information or assistance. Telephone: (508) 731-8564.