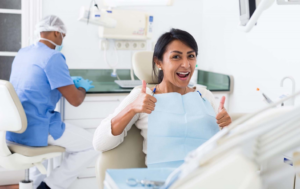 Root canals have an unjust and unwarranted reputation—they're often portrayed as scary, intensive dental procedures in movies and television, and you've maybe even heard through the grapevine that they're extremely painful. But despite what you've seen or heard, root canal therapy is a very good thing; in fact, the procedure is arguably one of the best ways to salvage a tooth that's been damaged or suffered extensive decay! Keep reading to learn a little more about this process and why you shouldn't feel hesitant about undergoing it yourself.
They Preserve Your Oral Health Moving Forward
Root canals are designed to fix issues present inside of the tooth, in the inner portion referred to as the pulp chamber. After numbing your mouth, your endodontist will tunnel into the infected portion of the tooth, remove it, and sanitize the area before sealing it back up and capping it off with a crown. It's a relatively straightforward process with untold benefits for one's oral health, such as saving the surrounding tissue and bone matter from damage due to spreading bacterial infection. They also immediately address any pain you might be feeling—which certainly benefits your oral health (and your happiness) moving forward!
Root Canals Prevent the Need for Extraction
Perhaps one of the biggest pillars of dentistry is prevention—not just the prevention of oral health issues in general, but also preventing teeth from falling out. This includes teeth that need to be extracted for the benefit of your oral wellness; although dentists always prioritize a conservative approach, sometimes your pearly whites need to be pulled if things get too severe. However, root canals prevent this! Since they essentially save and restore the existing tooth, often with the help of a crown, it allows you to retain your natural smile!
They're Notably Cost-Effective
Since they prevent the need for tooth extraction, they also prevent the need for patients needing to pay for replacement teeth! This makes root canal therapy an incredibly cost-effective treatment option, as tooth replacement options like dentures, bridges, and even dental implants can all be a little pricey in comparison. Since root canal therapy also helps to preserve your oral health moving forward, that also means you're at a lessened risk of other oral health issues that could end up necessitating expensive future treatment. And better yet, root canal therapy is also often at least partially covered by dental insurance, thanks to its restorative benefits!
They might have a bad reputation, but it's entirely unwarranted; in fact, most patients compare the feeling of undergoing a root canal to that of receiving a dental filling, which is mostly painless. That said, given their accessibility, usefulness, and enticing cost-effectiveness, it's a procedure that you shouldn't back down from.
About the Practice
Here at Worcester Endodontics, we're thrilled to be able to serve patients and families in the Worcester, MA community. Under the leadership of Dr. Karyn Stern and Dr. Niusha Nikkholgh, we're proud to offer a wide range of preventive, cosmetic, and restorative services including root canal therapy. If you have any questions about the blog or about the root canal procedure itself, feel free to contact us today for additional information or to schedule a visit. Telephone: (508) 791-7435.